Established in 2005, T2RL is
the unrivalled market leader
in the evaluation, selection and contracting of PSS (Passenger Service Systems) for airlines of all business models, sizes and with all vendors, having written contracts for
well over a third of all passengers
boarded in 2013. We also help investors who provide capital to the $1000Bn travel industry to evaluate global opportunities using data accumulated as the result of
more than a decade's research
by the principals of T2RL.
The most robust reporting ever by analysts with a combined experience of more than 80 years
---
New Generation of Airline Passenger Systems Conference 2015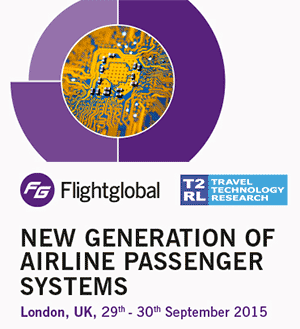 Our second New Generation of Airline Passenger Systems conference, took place in London on 29th and 30th September 2015.

The highly successful conference saw over 300 delegates from airlines and vendors alike gathered to discuss the future possibilities in airline technology. Do join us for the 2016 conference which will provide a unique opportunity for vendors to expand and build their network and make meaningful partnerships with Airlines in the critical buying cycle.

---
The T2RL Database
The backbone of our analysis is an industry database of virtually all airlines, vendors, relationships, contracts, distribution, passenger activity, airline e-commerce, car rental, GDS (Global Distribution Systems), travel agency and related statistics.
We use this data for our own analysis and for producing charts and easy to understand dynamic graphics. Additionally we give subscribers the ability to drill into the data to do their own analysis and reporting.
---
T2RL Facilitate Growth
T2RL is a sounding board and trusted advisor to vendor executives in Strategy, Sales, Marketing and Product, offering unique insight into the market wherever you are. This allows the vendor to make the right decision at the right time, reducing risk and resources whilst increasing market share.
You grow faster with T2RL.